Planned Parenthood clinics decline for 18th straight year
To read other articles from this issue of WSR:
Click here
Planned Parenthood tries to make people believe that its primary mission is to serve millions and millions of individuals providing needed health care. Its actual purpose to be an instrument of population control and to use its physical facilities as a means of murdering people. We always remind those who question that statement that when Dr. Alan Guttmacher was president of the organization (1962-1974) it was called Planned Parenthood—World Population.
Over the last two decades, pro-lifers have been able to shrink Planned Parenthood's empire. It went from 875 clinics in 2002 down to 587 at the end of 2019. Each year, STOPP conducts a thorough review of every Planned Parenthood facility in the United States and we are pleased to report that, in 2020, Planned Parenthood closed significantly more facilities than it opened.
According to our research finding, Planned Parenthood closed 33 facilities during 2020, while opening a total of nine new facilities. Thus, its count at the end of 2020 is 563 facilities—312 less than it operated in 2002.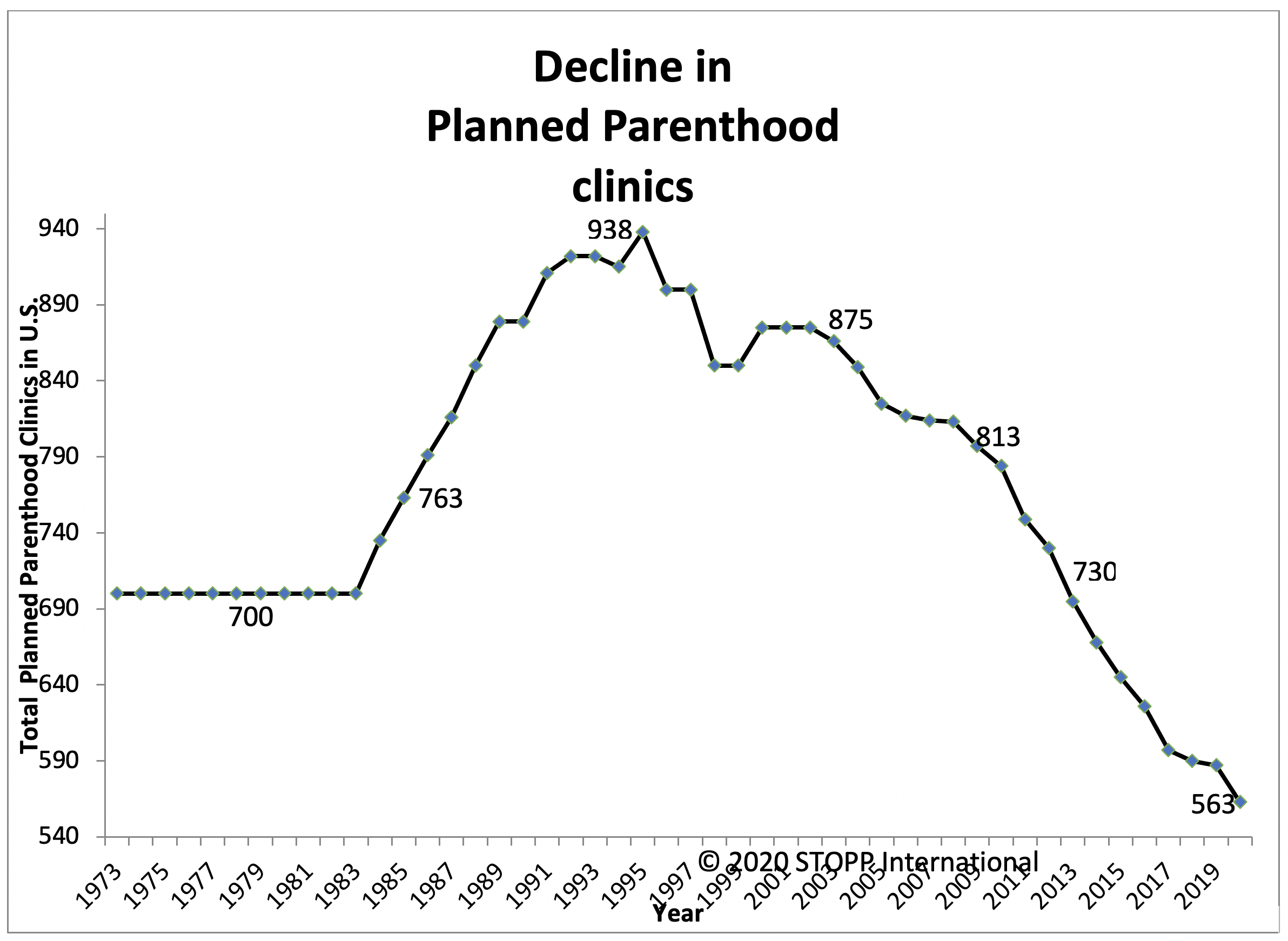 Planned Parenthood gives priority to its abortion business. Thus, while closing a net of 24 facilities, it managed to open three facilities that do both surgical and medical abortions, as well as four new facilities that do medical abortions. In addition, Planned Parenthood added surgical abortions to five of its existing facilities.
As a result, Planned Parenthood ended 2020 with:
174 surgical abortion centers (that also do medical abortions)

213

medical abortion centers (that do not do surgical procedures)
387 Planned Parenthood total abortion centers
Operation Rescue reports a total number of abortion facilities in the country as:
458 surgical

248

medical
706 total
Thus, Planned Parenthood operates:
55% of all the abortion facilities in the nation
38% of all the surgical abortion centers
86% of all the medical abortion centers
Thus, Planned Parenthood
Planned Parenthood is the largest abortion chain in the nation—operating more killing centers than all other abortionists combined.
Planned Parenthood's primary focus is the "at-home" or "self-managed" abortion business—where a mother is given pills to start and/or finish the abortion outside of its centers.
It is of critical importance to Planned Parenthood that the Department of Health and Human Services change protocol to allow women to receive abortion pills by mail.