Wednesday STOPP Report
2019-08-07
Archives are linked below.
This information-packed weekly e-newsletter is the voice of STOPP, American Life League's project that exposes the true nature of Planned Parenthood and documents its anti-life, anti-family programs. The Wednesday STOPP Report also spells out what dedicated grassroots pro-lifers can do to counter Planned Parenthood. Wednesday STOPP Report subscribers also receive special e-mail updates offering an in-depth look at timely pro-life issues.
In This Issue
Who is Alexis McGill Johnson?
A new list of demands from Planned Parenthood and 77 of its friends
Planned Parenthood comings and goings
Springdale (AR) doesn't want Planned Parenthood
Who is Alexis McGill Johnson?
By Jim Sedlak
Alexis McGill Johnson is the new acting president and CEO of Planned Parenthood Federation of America and the Planned Parenthood Action Fund.
Johnson is a Planned Parenthood insider. She served on the board of the Action Fund beginning in 2011 and was board chair of the Federation from 2013 to 2015. Unlike her predecessor, Johnson has no medical training but is a highly skilled political activist. She has political degrees from Princeton and Yale universities and taught political science at Yale and Wesleyan universities.
In line with her political interests, in 2002 Johnson was named political director of Russell Simmons' "Hip Hop Summit Action Network." Beginning in 2004, Johnson served as executive director of the nonprofit "Citizen Change," a political service group founded by musician P. Diddy and backed by Mary J. Blige, Mariah Carey and 50 Cent. She also served on the boards of the New York Civil Liberties Union, Center for Social Inclusion and Citizen Engagement Lab.
In addition to her interest in politics, Johnson is also heavily involved with the African-American community. She taught in the African-American studies program while she was at Yale and Wesleyan. She has co-authored "The 'Good Hair' Study: Explicit and Implicit Attitudes toward Black Women's Hair" and "His Story: Shifting Narratives for Boys and Men of Color."
She is the executive director and co-founder (in 2009) of Perception Institute. That organization describes itself on LinkedIn as: "The Perception Institute . . . is a consortium of mind science researchers, educators, and social justice advocates . . . we develop strategies to reduce racial bias and anxiety and influence the public narrative through cultural conversations. . . . Our goal is a nation in which, instead of insisting on a false 'color blindness,' we all have 20/20 vision when it comes to race; where our culture isn't filled with toxic, dehumanizing visions of people of color; and our public policies reflect what science has been telling us about how discrimination and bias really work."
In an interview last week on CBSN, Johnson said that she was spurred to get involved with Planned Parenthood after college when, in 2010, she saw a billboard that read "the most dangerous place for an African-American is in the womb." She said that message was like a "punch in the gut." To her, it was a criticism of African-American women for making choices in "reproductive health care." This led her to discussions with a member of Planned Parenthood's board and she joined the board of Planned Parenthood's political arm—Planned Parenthood Action Fund—in 2011 and "essentially never left."
Before her current appointment as acting president, Johnson was basically a behind-the-scenes individual with Planned Parenthood. In her interview, she spoke about fundraising and being on the board and voting for the requirement that every Planned Parenthood affiliate must have at least one location that commits abortion. She was very clear that she supports abortion as "health care" and said unequivocally that she would never entertain the notion that Planned Parenthood would stop committing abortions to retain government funding. Johnson was equally clear that she believes the government should pay for abortions for poor women.
Up to this point, Johnson has been very quiet about her early life. Although most articles say she was born in New York City, we found one article that claimed she is "a Morristown (NJ) native."
Johnson is married (to Rob Johnson, president of George Soros' Institute for New Economic Thinking) and has two daughters (Sara Jean and Dylan Katherine). In addition to her other activities, she also does research for the Institute for New Economic Thinking.
Planned Parenthood has said it expects Johnson will serve as acting president until the end of 2020. She is the second African-American president of Planned Parenthood (Faye Wattleton was the first and served from 1978 until 1991).
The day after her appointment, Johnson sent an open letter to the Planned Parenthood community. In that letter, she gave a bit more insight on who she is:
"I've spent my career working at the intersection of academia and racial justice, and I used to tell my students: We find leadership in everyday experiences, but sometimes you see a good fight and you just want in. So I jumped in at Planned Parenthood."
She identified her three major concerns: "Today, we are defending access to sexual and reproductive health from attacks on many fronts—from the attempt to shut down access to abortion in states across the South and Midwest; to sexual and reproductive health crises including skyrocketing STI rates and rising maternal mortality rates; to attacks by the Trump-Pence administration."
And then she reiterated the lie that every Planned Parenthood president since Margaret Sanger has spoken: "The bottom line is this: Our work and our mission isn't about one person or even one organization—our work is about the millions of people who need access to affordable and comprehensive health care."
Well, there are 8.3 million babies who have died at Planned Parenthood facilities and millions more who are suffering an eternity in hell because they bought the lie of "free sex" who have an entirely different opinion of Planned Parenthood.
Jim Sedlak is executive director of American Life League, founder of STOPP International, and host of a weekly talk show on the Radio Maria Network. He has been successfully fighting Planned Parenthood since 1985.
A new list of demands from Planned Parenthood and 77 of its friends
Planned Parenthood Federation of America and 77 other pro-abortion groups have issued a new document, the Blueprint for Sexual and Reproductive Health, Rights, and Justice.
The 114-page document has many demands to liberalize sex, condone all forms of sexual deviancy, and support the killing of preborn human beings in the United States and around the globe. Of course, at the heart of the entire document, is the demand that killing preborn babies must be applauded and access expanded. Indeed, the word "abortion" is positively mentioned 244 times in this 114-page document.
One of the startling, but not surprising, parts of the document is the insistence that all judges MUST support and advocate for abortion—truly a "litmus test" for judges. In fact, this document tries to tell all branches of the United States government—executive, legislative, and judicial— exactly how they must support the killing of preborn babies:
On page 12, the pro-abortion community insists "the Legislative and Executive Branches must select judges that support abortion:
"The President must only consider and the Senate must only confirm judicial nominees who either have a positive record on reproductive health, rights and justice or in the context of the confirmation process, affirmatively declare that the Constitution protects individual liberty, equal protection of the law, and the right of all people to make personal decisions about their bodies and personal relationships, including the right to use contraception, have an abortion . . ."
". . . Judicial nominees to the Supreme Court and the lower courts must demonstrate a commitment to justice, civil rights, equal rights, individual liberties, and the fundamental constitutional rights of equal protection, dignity, and privacy, including the right to have an abortion."
Also on pages 12 and 13, this litmus test for judges is extended to every member of the executive branch of the United States government as it states: "The President must only put forward and the Senate must only confirm executive nominees who have a demonstrated positive record on reproductive health, rights, and justice . . . Federal agencies are charged with implementing and enforcing crucial legal protections . . . protections for access to comprehensive reproductive health care, including abortion access for all who need it, including for immigrants and those who are undocumented . . . Senators must thoroughly question executive and judicial nominees regarding their qualifications and commitment to reproductive health, rights, and justice . . . Senators must exercise their right to question nominees about their . . . ability to uphold our constitutional rights, including the right to have an abortion."
This document also calls for major changes in United States law to make the killing of children even more readily available than it is today. In general, throughout the document, Planned Parenthood and Friends are demanding:
No abortion restrictions

: (make abortion totally legal—even DIY abortions)—It demands decriminalization of "self-managed abortions" (Page 5), which "may include the use of medication abortion pills, traditional herbs, or other means to end a pregnancy" (Page 38). They demand that Congress pass a federal law that will "prevent state abortion bans and medically unnecessary restrictions" on abortion. (Page 114)

No parental consent laws

: It proclaims "young people deserve the right to access all sexual and reproductive health services—including but not limited to abortion." (Page 66)

More taxpayer-funded abortions

: On page 5, and eight more times in the document, pro-aborts demand: repeal of Hyde Amendment—"everyone must have abortion coverage" and repeal of the Helms Amendment that "unjustly restricts federal global funding from covering abortion."
No conscience protections: It further demands elimination of First Amendment conscience protections from health care providers. "Ensure that hospitals and other health facilities do not refuse appropriate reproductive health-care services, information and referrals, regardless of their religious affiliation" (Page 65), and eliminate the HHS Office of Conscience and Religious Freedom because it "carries out discriminatory policies." (Page 62)
Planned Parenthood believes it has the right to issue political demands such as these precisely because Planned Parenthood is a political organization. This is NOT about healthcare. It is all about the fact that Planned Parenthood pours millions of dollars into political campaigns and, once its selected people are in office, has no hesitation in demanding the elected officials produce legislation that allows Planned Parenthood to kill as many babies as possible.
Planned Parenthood comings and goings
Coming: Planned Parenthood of Wisconsin announced it is expanding through the purchase of Essential Health Clinic, effective August 19, 2019. The procurement will allow PPWI to expand into western Wisconsin with clinics in La Crosse, Sparta and Blair. Reports state that all existing EHC staff will be employed by PPWI and will do the same jobs. Wait until they find out what it is like to work for PP.
Going: UNIONS at Planned Parenthood. Over the years, we have documented a number of conflicts between Planned Parenthood and employees who want to unionize. Although Planned Parenthood enjoys the support of many unions, very few of its workforces are unionized. We've always thought this was a strange situation. Why would unions support what is, essentially, a non-union shop. This week, the following tweet brought this whole conundrum to the forefront once again. This tweet came from the Office and Professional Employees International Union (OPEIU):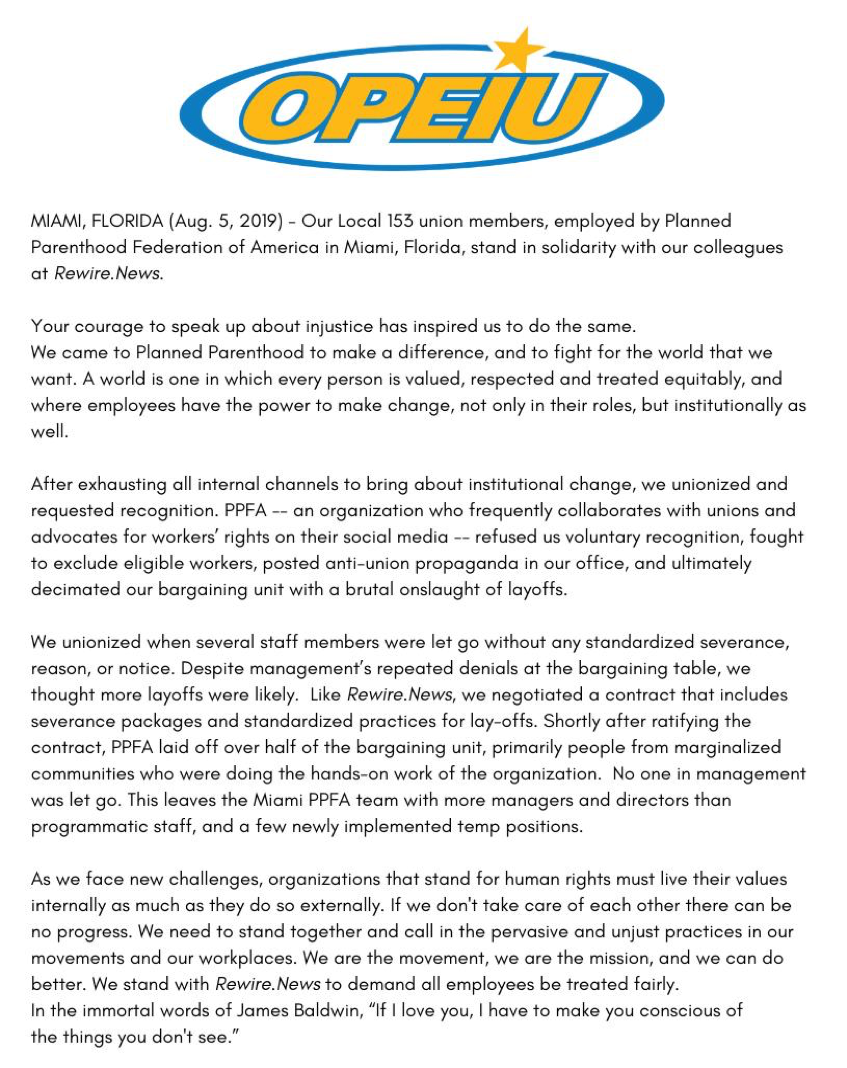 Click on the above image to enlarge.
The union saga at Planned Parenthood continues.
Springdale (AR) doesn't want Planned Parenthood
We reported in previous issues of the Wednesday STOPP Report that Planned Parenthood Great Plains closed its facility in Fayetteville (AR) and is trying to find a new location in northwest Arkansas. The city council of Springdale heard that Planned Parenthood has expressed an interest in opening in their town. They don't want Planned Parenthood in their community.
Although they can't legally prevent Planned Parenthood from coming to town (as long as the organization obeys all of the city's codes), they want to make their feelings known. The proposed resolution received unanimous approval of the "committee as a whole" on Monday, August 5. It will be voted on by the City Council on Tuesday, August 13. The non-binding resolution states: "Be it resolved by the City Council for the City of Springdale, Arkansas, that based on the foregoing the City of Springdale, Arkansas, hereby recognizes and designates itself as Arkansas' first Pro Life City."
Congratulations to the City Council of Springdale and to Councilman Colby Fulfer, who introduced the resolution and commented for the Northwest Arkansas Democrat Gazette that he hoped the city's measure sends a message to Planned Parenthood, "respectfully asking the abortion provider to find another city."
Other cities that do not want Planned Parenthood in town can do what Springdale has done. They also might consider one or more of the following actions:
Let it be known that:
The city will not sign any contracts with Planned Parenthood or provide it any direct or indirect funding.
No Planned Parenthood literature will be permitted at any time in any city-owned space.
As a condition of employment, no city employee will be permitted to refer anyone to Planned Parenthood for any services.
No Planned Parenthood employee or other representative of PP will be allowed to participate in any task force, workgroup, meeting, health fair, or any other activity where city money is involved in any way with the activity.
No city employee will appear at any Planned Parenthood event where that employee is specifically cited for his/her city position. City employees are free to attend as private citizens as they desire.